RNLI Renewables Project – Live Data Screens to Showcase Performance
The Royal National Lifeboat Institution is right at the heart of our island nation, and is rightly?recognised as an emergency service that ranks alongside the police, fire and ambulance services.? The difference is that the RNLI is a charity, and the ?385000 a day it costs to run is all donated by the British public.? The institute doesn't cut corners?to save money?- that's a bad idea in their sphere of operation – but it does take efficiency seriously.? That's can be readily appreciated in their energy and carbon management policies which have resulted in an ongoing?major investment in renewables.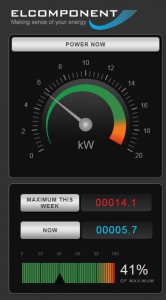 Lifeboat stations do not use huge amounts of energy, but they are remarkably well placed to get the best out of current renewables technologies.? Windy?? Check.? Sunny?? Check (in some locations anyway).? Ground source heat?? Check – beaches are very good.? This has led the RNLI to equip many of their stations with one or more of the above renewable energy sources, providing both self sufficiency and a significant income from the feed-in tariff.??Elcomponent?are providing the necessary meters?to ensure?the?generation plant?is used as efficiently as possible, and to provide live data to the RNLI Visitor Centre in Poole.? Our realtime 'MeterRing RT' screens will also be located in larger lifeboat stations so visitors can get an instant view of the power being generated both locally and across the entire system.